Three Generations of experience.
Since 1961, we at H.G. Morsink – the Family owned Southland Painters – have prided ourselves on our flexibility and working around the Customer. Not only do we work conventional hours upgrading your home whilst you are there or at work, but we are also more than happy to work outside of these hours at your workplace whilst you are at home. We call it "hassle free painting" – we work when and where you require it – thus eliminating any hassles or disruptions to you and your lifestyle.
Are you heading away on holiday? Perfect time to call for a quote! Who wouldn't love to come home from a nice relaxing holiday to a freshly decorated home having avoided all the hassle of catering for the tradesman.
Sick of your office block building looking a bit old and dated but don't want to deal with the hassle of painters working around your staff and slowing production? We can come in at night to freshen things up and be all cleaned up when you arrive in the morning – you won't even know we were there ( apart from your amazing new colour selections).
Our staff have all Passed Ministry of Justice vetting checks and are readily available for any school or alternative government work. Again, we can work around the hours designated by you eliminating any disruptions to the classes.
We are also specialist wallpaper installers – whether it be a bright bold feature wall or just a subtle plain backdrop you are after – we can handle the lot.
Over 56 years in business servicing loyal southlanders with our good sized team who share our passion for our trade. There are not a lot of businesses, buildings or streets in Invercargill we haven't worked on since 1961.
We have the most stringent Health and Safety policy available to make sure we more than exceed all NZ HSWA regulations. You can rest easy knowing we have taken all obligation off you as an owner by doing everything by the book.
We have the systems and protocols in place to ensure you get a top quality job and a very reasonable price.
Our Values

Trust
We are trusted by the client to provide the highest quality job achievable.

100%
We strive for excellence, this means putting in 100% effort 100% of the time.

Positivity
Uplift the mood with customers and fellow employees. Your attitude affects others.

Learning
Forever picking up new skills to maximise quality and efficiency.

Teaching
Handing valuable skills down through new generations of painters.

Respect
Always showing the highest respect to people and possessions.

Satisfaction
Leaving the customer and ourselves with a smile on their face at the end of every job.

Lead
Lead painting and decorating into the future through passion and hard work.
Our Processes
We do things a little different that the average painter, we are careful, considerate and upfront. Whether your job is big or small, we have identified the key steps that will help you understand our process. As we offer such a wide range of services please contact us for any further questions specifically relating to your project.
To view our interior or exterior process click below.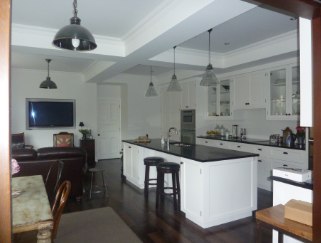 Interior Services
Upon acceptance of our quote we will arrange a suitable time with you to start the job.
Day or night.
Any carpeting will have sticky plastic applied so as to stop all dirt, dust and debris entering the pile.
All rooms not affected by the work area will be plastic sheeted to eliminate any dust or smell entering areas not in the scope of work.
We will generally start with a good clean down of all surfaces to be repainted and or wallpapered.
Plastering will take place to ensure all surfaces are in good condition to apply top coats.
Sealer Coat then applied over all Ceilings and walls. Pigmented sealer if wet area painting or preparing for wallpaper.
All trim is sanded, and gap filled before one undercoat and two top coats.
If pigmented sealer or other oil based primers or paints are required we will use our extraction system to keep the smell to an absolute minimum. (Please note some smell may still linger for a few days after completion)
Once painting and or wallpapering is complete we will scrape all windows free from any paint roll around a dust down.
Double check all areas are completed to the highest standard.
Lift sticky plastic from carpet and vacuum all areas that had a chance of being exposed to dust.
Client showed around work areas and signs off on the job
Job Done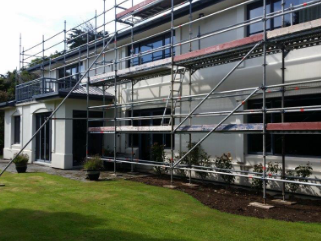 Exterior Services
Before any work can commence all timber substrates on houses built before the 1980s require to be tested for the presence of lead.
Once the presence of lead has been determined the job can take two paths.
Negative reading for lead
We will wash your home down with a good cleaning agent to soften all grease and grime and kill the Moss. (This is usually done up to 1 week before the wash-down)
Waterblast all surfaces to be painted so as they are free from all contaminants.
Plastic any paths, gardens or shrubbery within the work area.
Any filling then takes place.
Filler sanded and spot primed along with any other bare substrates.
Two top coats of the highest quality paint are then applied.
Plastic is lifted and all work ares cleaned up upon completion of job.
Client then walked around job to ensure satisfaction.